The International Baccalaureate (IB) continues its engagement with universities and colleges across the world during the COVID-19 (coronavirus) pandemic, to understand their thoughts on our approach to the issuing of May 2020 examination results.
The IB has been in regular communication with universities and colleges internationally during the COVID-19 (coronavirus) pandemic. A part of our approach has been updating and supporting our IB community through regular newsletters, webinars and remote-learning resources. In April 2020 we provided universities and colleges with a clear outline of the IB's approach towards the issuing of results for May 2020 students. With this in mind, we decided to give them a survey to collect feedback on how they consider these results. We are very pleased with the results of the survey, as they show our universities and schools continue to show high regard and maintain trust in our approach as an organization.
Survey results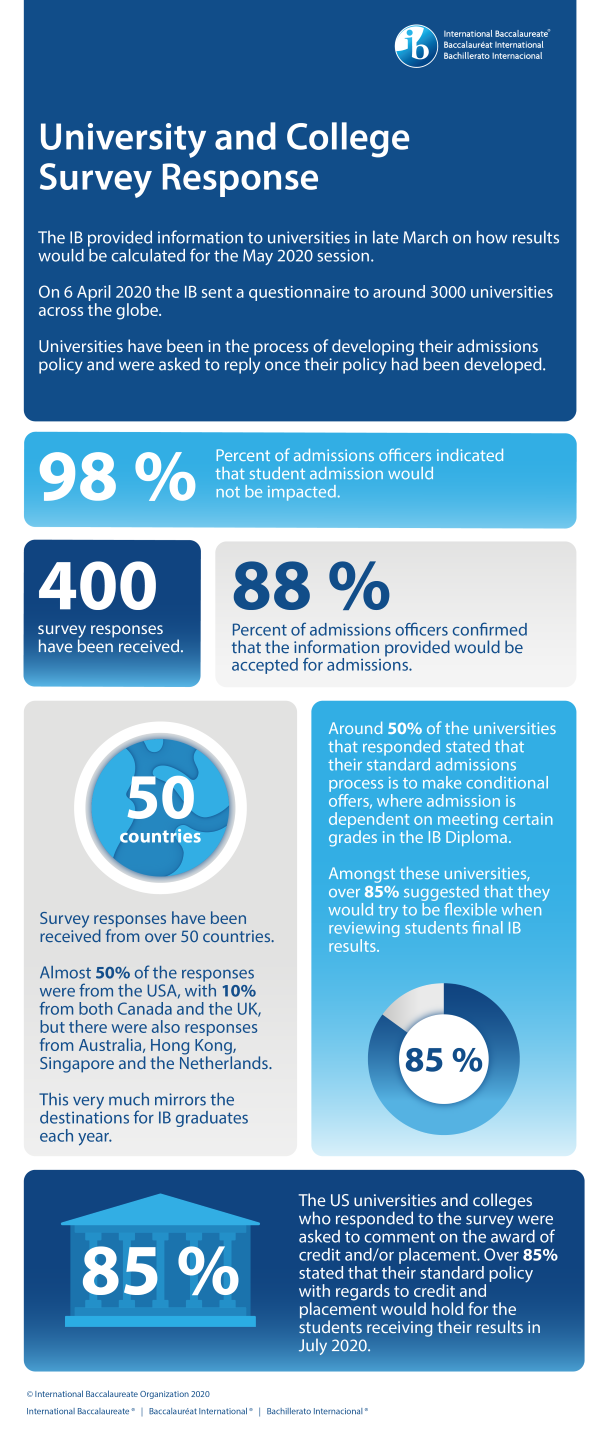 We have already received results from over 400 institutions, from over 50 different countries, with representation from each of the continents. Almost 50% of the responses were from the USA, with 10% from both Canada and the UK, but there were also responses from Australia, Hong Kong, Singapore and the Netherlands. This very much mirrors the destinations for IB graduates each year.
We asked universities, whether they would be able to admit students based on the information provided. 88% of admissions officers confirmed that the information provided would be adequate for admissions, whilst a further 10% stated that their standard admissions process does not require the final IB transcript and that therefore student admission would not be impacted. It is extremely pleasing to hear that universities have adapted to these unprecedented circumstances and that the information provided by the IB will meet their needs.
Around 50% of the universities that responded stated that their standard admissions process is to make conditional offers, where admissions is dependent on meeting certain grades in the IB Diploma. When considering these universities over 85% of them suggested that they would try to be flexible when reviewing students final IB results.
For more information, please view our data visualization pack [3.2 MB]

Supporting our community
We continue to see many universities adding COVID-19 (coronavirus) admission related pages on their website, and we highly encourage our IB students and guidance counsellors to check them regularly for updated information.
Although there is still apprehension amongst students, parents and schools, regarding students' achieving the results required for university admission, the IB is confident that with the work of the assessment team, our students will soon feel positive with the outcomes for the May 2020 results, much as universities will be waiting with open arms.
If you or someone you know are experiencing any challenges regarding university admission prior or after the release of results in July, the IB encourages you to speak with your university or careers counsellor at school. Additionally, you can contact the admissions office at your chosen university to discuss any ongoing issues. After these steps have been applied and you are still not completely satisfied, please encourage the university or careers counsellor to contact recognition@ibo.org.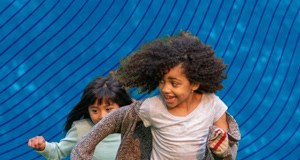 All COVID-19 related resources
Links to all COVID-19 (coronavirus) related news, resources and inspiring stories from our global community coping with remote learning.