Director General Dr Siva Kumari discusses how we've informed future plans with input from our community.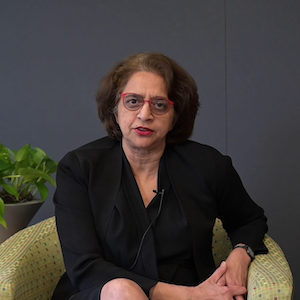 In an unprecedented situation, we arrived at the difficult decision to cancel IB exams for May 2020 due to the COVID-19 (Coronavirus) pandemic on 23 March. This led to a challenge we had never faced before: How do we fairly award students the recognition they deserve for their two-year preparation and provide universities the resources they need to admit IB students?
In a planned cycle, the schools know exactly how examination works. This year, we had to come up with something that didn't exist before. We had the formidable task of developing a plan to deliver IB results within the three-month timeframe for students to receive their results, so they can pursue higher education, and we had to do this all after the necessary consultation with regulators and university leaders.
May 2020 saw the most IB diplomas awarded than any year before. Results indicate that the mean grades per subject increased and the total points per candidate increased for the first time in four years. After results were delivered, there were also some anomalies, which we quickly realized. As a response to our schools, in July we initiated an extraordinary review service to understand what happened and ensure fair and accurate results for all students. Over the past three months, we've listened, we've learned, and we've taken action where possible.
In the Q&A below, we hear from the Director General, who shares insight into the May 2020 results and looks ahead as we prepare for November 2020 and May 2021.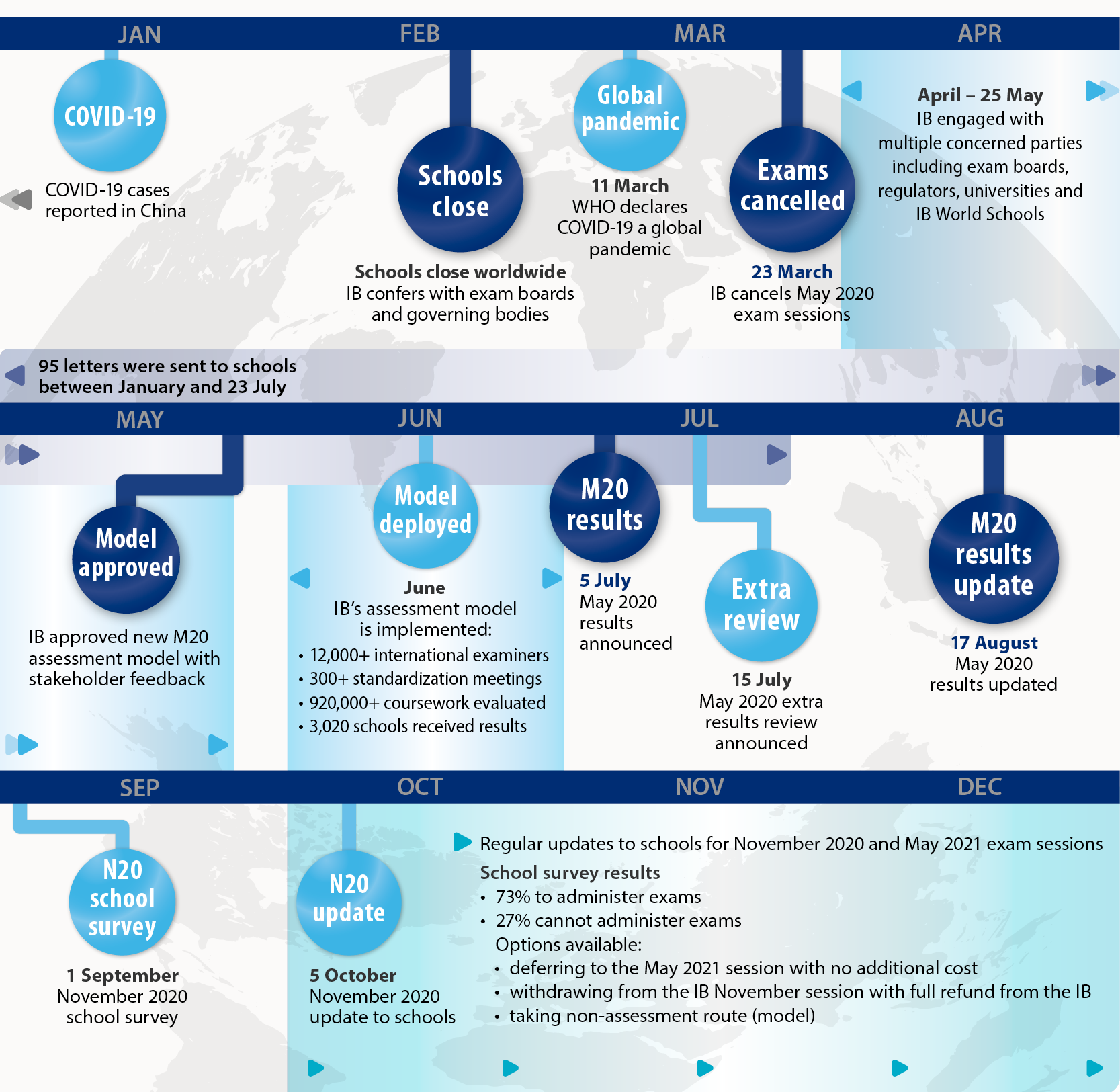 Archival collection of the IB's key decisions and actions during the COVID-19 pandemic.
---
Some members of the IB community have expressed dissatisfaction regarding the IB's results process. What key points have informed the IB's results strategy and what is your response to the community?
Dr Siva Kumari: Preparing students for their next stage of life is always our primary concern. Maybe it's university or a career, but our guiding question remains: How do we ensure that young people get their certificate, their diploma from the IB to move forward in their lives and impact change in the world? This year, the big dilemma is how do we do that without administering an exam?
It's important to keep in mind that students gained the intended programme experience during their two-year educational journey, and the essence of the IB is found in much more than just the exam. It is well documented that the IB programmes engender a whole range of skills. Sure, academic rigor is one component―that's what we're known for and why the top universities accept the IB. The universities have also spoken about the IB traits and skills that differentiate DP students on campus in their engagement and research as well as their overall transition and retention at university. With this information, we knew IB students would continue to be welcomed at top universities and thrive there.
We know that the decisions we made were not popular for every individual, and we apologize for any pain caused to our students, educators and parents. We are extremely honored that students, schools and universities recognize the opportunities and skills that this curriculum offers and that they want to be part of the IB. We recognize that in the midst of the changes we all encountered due to the pandemic, some students felt they were short-changed because their work had been their life for two years, and they did not have the opportunity to demonstrate their mastery via exams in the same way as students in previous years had.
Our goal has always been to help students succeed in their path and remain fair to our past, present and future students. In this entirely new, unknown situation, we've become closer and more attuned to our community and as lifelong learners, we will never stop listening and adapting.
Looking ahead, what will the November 2020 and May 2021 results look like?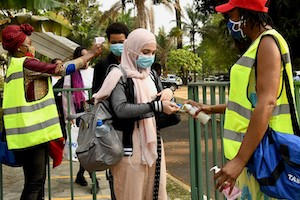 Students and educators at The American School of Kinshasa prepare for in-person instruction.
Because of this pandemic, there is a lot we've learned since May and every single one of those lessons has been incorporated to prepare for our November session. We reviewed every inquiry, comment and note from our community to understand their situation and address issues head-on. We wanted to know what our schools were thinking, so we created a global survey for the schools and are using their input to inform solutions. As we got more answers and information, we created an evidenced-based approach to our services.
We have a real set of data to work with. We found 73% of our schools are able to have students sit the exam and 27% cannot. We will administer the November exams for schools that can, and we will also provide another way for students to get the certification they need to move forward. This is a very difficult task, but we want our schools to have the best experience we can provide.
In our planning, we've had to think about numerous other factors, such as the security of the exams if schools are closed. I think the way we are managing it is by keeping open lines of communication with our schools. Our staff are holding webinars with our schools on a very regular basis, so schools in turn have direct, regular contact with us and feel supported.
Now, we know we can't please every student and every parent when we are evaluating a student's work. Our aim is to do everything we can to take those individual factors into account. To do that, we will attend to results at the student level, school level and overall international level. That's a lot to be focusing on with this new approach but we want to ensure we're making the right decision for our students.
What's been going on to keep the standards, gain support from universities and help schools to understand all this too?
Like all organizations, we have a routine way of getting our work done; everybody knows their role, and they do it. So, what we had to do quickly, is change the way we work internally and the way we communicate externally while also being so in sync with each other. I am really proud of how the team came together and erased those divisional lines and set routines to accomplish incredible feats for our community.
We created an extraordinary review service, which was never before offered. We attended to individual results inquires and turned them around as fast as we could for the students. We created these enterprise groups, these agile teams, that became the center for communication, ensuring that all our stakeholders got customized messages. We did what I think is reasonable to do as an organization that is student-centric.
Since we're also an assessment board that universities trust in the admissions process, we had to uphold certain standards, so our students can pursue a university education anywhere in the world. As an independent organization, we lack the backing of any government. While other assessment bodies may have the government backing, they also have political pressures that influence decisions. We are answerable to more than one government, and more so, to schools and universities.
So, we communicated with the universities often to inform them of what was coming, because we needed to ensure that their respect for the result there was assured. We knew there wasn't any point in giving a diploma that the universities don't accept. I'm proud to say every single university has accepted our results.
Tell me a little bit about the COVID-relief fund that's been established and how the IB is providing benefits for schools and students.
We wanted to assist schools going through financial difficulties because of COVID-19 and those who are unable to continue offering IB programmes. We wanted students to continue to get the IB education they needed. We can do that in several ways. We know that this epidemic has impacted schools differently, and we wanted to do our part to help. Our past board members have reached out to support this initiative, and we are thankful to have their help. To learn more about the COVID-relief fund you can contact support@ibo.org or talk to your IB World School manager.
We have been a very responsible not for profit for the past six years. As far as our fees to schools, for the past five years our annual fees or our professional development fees have not increased. We are very, very cognizant of keeping our fees low because we want diverse schools to access the IB. As an organization, we made the decision to remove the candidate registration fee of US$172 in 2019 to make the IB more accessible. Though it was a huge financial loss, we know we made the right decision to address the barriers our schools and students face in taking on an IB education.
What motivated you personally as a leader in these uncertain times?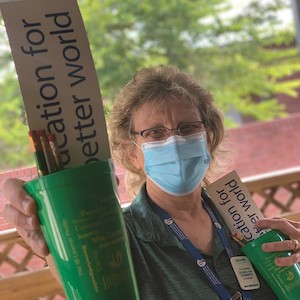 Educator from Shotwell Middle School poses in her mask and supplies.
The reason I joined the IB, was the educators. I remember thinking, "I can see myself serving in this organization because they seem to attract the best K-12 educators that I know". And that's proven true. What inspires me when I get up in the morning is all the educators I've met and the work I've seen of our students. It's the passion and drive school programme coordinators and educators have for equipping young people with the resources to pursue their passions. Any programme that can engender such great thinking among students, such deep engagement among teachers is worth contributing to. During my tenure at the IB, my goal has been to keep asking, "Are we enabling educators to be free, to love teaching? Are we enabling young people to love their subjects and own their education?" My answer is yes, we are, and where the answer is not yet, we have a plan to do something about it.
I'm very proud of the schools-first approach that has been important to me at the IB. It is comforting to know it's engrained in our practice and will lay a solid foundation.
Amidst the COVID-19 crisis, having resilient colleagues who didn't waver also gave me stamina and strength. Having people from the outside, like heads of schools, writing to say, "We know you're going through a rough time, but we know you're doing the right thing. We wish you strength". There are many such moments, such as when I called an admissions officer at an Ivy league university asking for advice and that person said, "I trust IB. Do it, you'll be fine". Those are the moments that were extraordinary for me.
What value will students find with the IB now and in the future?
I think the big value we bring is by creating a programme that's world-renowned. Schools adopt us because they see the value of this rigorous preparation. A student that is well prepared for life is a uniquely different student. Our curriculum is globally-focused, it's independent and meets international standards, not just national standards.
Beyond scores, the IB teaches skills that are needed to survive in the real world, like meeting deadlines, thinking critically, developing leadership skills and gaining an awareness of one's role in the world. These are certainly things unavailable to me at that age. The kind of student prepared for this is miles apart than most others their age, and we have studies to show that fact. A recent study out of Oxford University showed that the critical thinking skills of IB students are far greater than others. And if you look at retention rate nationally, based on preparation, IB students tend to finish earlier and with aplomb in their university education.
Everyday, we think, reform, innovate to ensure that we will always offer a world-class education. The pandemic has helped us reshape the idea of what our education and curriculum can be. They are digital, connected, accessible on top of enabling the traditional skills students expect from the programmes. These are technologies we've already implemented in the Middle Years Programme (MYP) with the eAssessment, for our educators with the IB Webliography and webinar resources.
We've found stability in our years-long planning to understand and cultivate the types of skills our learners need in an unstable world. With great partnerships, research, community-input and technology, we remain inspired and committed to leading excellence in education.
There's no other organization that's doing this in the way we do. No other exam board offers 60, 70 languages in which they administer examinations; some of them with five students in them to preserve student's mother-tongue. Regardless of a school's resources, our ambition to create equal learning and the same, positive outcomes for all young people. It's a lot of work to get all of this done, and I think that's the value that the IB brings. I've never seen anything like this before and I don't think there's anything like it in the world.
---
Dr Siva Kumari has extensive experience in education to understand the tools and skills students need to create lasting change and achieve their goals. As Director General of the IB, she continues to address barriers to IB programmes with a mission to build a better world through education. Learn more about Dr Kumari here.