The International Baccalaureate (IB) is proud to announce that 36 educators have been selected for the IB University of the People Master of Education (M.Ed.) scholarship. Awardees, chosen through a rigorous review process, will receive full scholarships to complete their M.Ed. in Advanced Teaching with University of the People (UoPeople).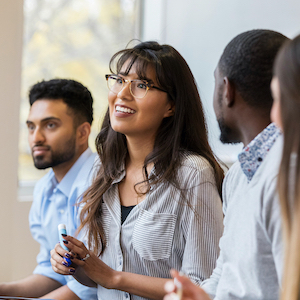 The IB has awarded 166 scholarships since beginning the programme in the fall of 2019 in hopes that they will provide greater access for teachers to receive advanced degrees in education.
Recent graduate and scholarship awardee, Felix Owiredu shares his UoPeople M.Ed. programme experience:
"I gained more knowledge about child development and its implication for classroom practice, improved my planning of differentiated lessons to cater to students' diverse needs, refined my teaching philosophy and attained the research skills needed to conduct action research in my milieu".
During the spring 2021 application cycle, the IB received 379 applications from 86 countries around the globe. Applications were reviewed by 36 IB community volunteers from regions such as Africa, the Americas, Asia, Europe and the Middle East, who graciously dedicated their time to review and score applications.
The IB hopes that these scholarships will help educators directly impact and empower the students in their communities. Current UoPeople student and new scholarship awardee, Evangelista Mahaso from Botswana stated that she has already started implementing what she is learning to improve her teaching practice:
"Through this scholarship, I am one step closer to becoming a highly skilled educator".
Fernando Giménez Zapiola, an awardee from Argentina, commented:
"This is a great opportunity for my personal and professional development. As an Argentinean, I want to give back these opportunities to my society and raise our educational standards with the excellence the IB has also fostered''.
Congratulations and the very best of luck to our new scholarship recipients!
The scholarship will reopen on 5 July for the fall 2021 session. If you would like more information, please visit our page on how to apply.