Sabine Chalmers is a passionate business leader, lawyer and global citizen: an American citizen of Indian and German origin who has lived and worked in Asia, Europe and the Americas.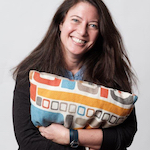 With over 30 years' of global business experience, Ms Chalmers has led large teams across various industries with a strong belief in the power of diverse teams to deliver big dreams while bringing out the best in talented people.
Prior to becoming BT's Group General Counsel in 2018, she spent over a decade as Chief Legal & Corporate Affairs Officer and Secretary to the Board of Directors of Anheuser-Busch InBev, the world's leading global brewer. Prior to this she served in a number of leadership positions, including General Counsel of the Latin American and U.S. Businesses at Diageo plc, the world's largest producer of spirits. She also worked in private practice at the law firm of Lovell White Durrant and was a lecturer at University College, London.
Ms Chalmers currently serves on numerous boards, including those of Anheuser-Busch InBev; the Royal National Theatre London; and Room to Read, a non-profit organization dedicated to improving literacy and gender equality in education in the developing world.
Ms Chalmers holds a law degree from the London School of Economics, as well as the International Baccalaureate Diploma. She is qualified to practice in England and NY State.