Lucas Millán completed the IB Diploma Programme at Escuela de Educación Media Secondary School No. 6 in Vicente López, Buenos Aires, Argentina, in 2015. Millán studies computer engineering at the University of Buenos Aires (UBA).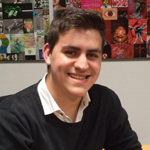 My story is quite unique, because I come from a family in which education is both valued and privileged, even though my parents weren't able to obtain their secondary school diploma when they were young. That's why they are doing so now as adults. They are convinced of the social change that occurs through the tools that an education provides to you.
I found out about the Diploma Programme (DP) through one of the International Baccalaureate coordinators for the school. She encouraged me to enroll, and when I told my parents about it they didn't hesitate to support me.
My family had recently moved to Buenos Aires after living in the San Luis Province for seven years, and my parents wanted the best for their children. That meant looking for a high school that would provide a quality education. They enrolled me in Escuela de Educación Media Secondary School No. 6 in spite of the distance, since the trip from my home to school took 40 minutes each way. But it was well worth the effort.
"My parents always privileged education and even though they didn't earn a secondary school diploma, they were the ones who most encouraged me to do the Diploma Programme."
In addition to our academic education, my family encouraged us to do other activities, such as studying music at the conservatory, swimming and getting involved in theater.
One of the activities that I really enjoyed in the Diploma Programme was the CAS (Creativity, Activity and Service) project, in which we provided academic support to other children and we traveled to rural schools to bring food, clothing and books that we collected during the year.
I did my thesis on geography, specifically about the population rates for the Autonomous City of Buenos Aires. The teacher that assisted me with this subject was so helpful, as she constantly offered me her support.
What I would emphasize as a benefit of the DP is that it "trains" you for future classes in college and it enables you to develop a methodology for studying. You begin to manage your study time well. Consequently, doing the International Baccalaureate Diploma Programme helps you become equipped to handle lots of unforeseen situations.