Abril Morishita graduated from Tecnológico de Monterrey high school and she is currently in her 5th semester studying law at the Mexico City campus of Tecnológico de Monterrey university.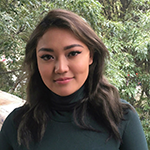 When I first arrived at the high school where I wanted to study, I was told about the IB Diploma Programme. I thought it was different from what the other high schools in Mexico were offering. I felt that it provided students with lots of different tools for their future, tools to help prepare them for a university degree and to make them more internationally minded. The DP really does give its students a different perspective on the world and society.
The DP is full of choices, the sky is the limit. And even though I'm studying law, I understand now that taking subjects like Biology and just learning a lot about other things is actually helping me; it makes me stand out among my classmates. That's what's so great about the IB. In the DP, I took Biology, ITGS, and History and, even though these subjects may not be directly related to law, each of them has given me a broader perspective to better understand my future profession.
My favourite subjects were History, ITGS, and Language and Literature. These subjects really engaged me and the things I learned by taking them continue to help me every day now that I'm at university.
"My greatest takeaway from the DP is being able to see the world from different perspectives; it opened my eyes, and now I have no limits."
I'm passionate about reading and I really like art films. I was lucky enough to be able to continue enjoying these activities while at school and even put them to good use. I had a great social life while I was enrolled in the DP – my classmates and I were very close and I really enjoyed spending time with them outside of class too.
All of my teachers had a significant impact on me, but one of them changed the way I looked at the IB and the DP. Ms María Eugenia Robledo was my ITGS teacher in addition to being the head of the IB department. She taught me new ways of looking at learning and how to improve my study habits.
My greatest takeaway from the DP is being able to see the world from different perspectives; it opened my eyes, and now I have no limits.
Because I'm studying Law, one thing I'm constantly having to do, apart from learning how to litigate, is a lot of writing and researching. That's why I think the Extended Essay was a definite plus. In fact, I think the Extended Essay is a big help no matter what you decide to study or do with your life – knowing how to do research is an important skill. CAS taught me about community service, about helping others, and about how I shouldn't see it as an obligation. The community service I did through the IB was something that I really enjoyed, so much so that I have kept up with it since then. This last summer, I helped out at an association run by Ms Isabel Miranda de Wallace that's called Alto al Secuestro (Stop Kidnappings) where I counselled kidnapping victims. Currently, I'm volunteering at the free legal advice clinic at my university. When you take CAS, you learn just as much as you would in any other subject.
If I had been able, I would have liked to take other classes that my school didn't offer, like Visual Arts and Dance.
My advice for students thinking about enrolling in the DP is for them not to be afraid. I really think they need to try to get to know the world better, to have a good time learning, and to develop an interest in different subjects. I think that's what's most important and exactly what you get from the IB.