Camila Vera Falabella graduated from the Diploma Programme in 2006 at the Craighouse School, El Rodeo campus (Chile). After graduating, she studied journalism at Universidad del Desarrollo in Santiago (Chile). She is currently a food writer specializing in baking. She works with The World's 50 Best Restaurants organization and she recently opened her own cake and pastry shop in Santiago.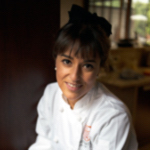 For me, doing the Diploma Programme was very decisive, because I didn't want to go to college in Chile, but instead in England. The only way to do so was through the International Baccalaureate Diploma Programme.
All of the subjects that I studied as part of the DP were valuable because they all contributed something. I started to study business for a year, and everything that I learned about economics and business administration helped me. The DP taught me history, language, writing and textual analysis. I learned a lot of things related to structure, such as how to study, read, analyze, and even how to write. Consequently, I ended up writing well and becoming a journalist, thanks to the IB.
All of the teachers really helped me so much. It was a very rare situation at my high school for someone to want to study abroad, so most of my teachers took me on as their pet project. They afforded me a lot of flexibility and they provided me with the skills necessary to study outside of the country.
In the Diploma Programme, you learn things in a more mature way that undoubtedly help you. When starting college in Chile, you can immediately tell who did the International Baccalaureate and who didn't. It becomes evident, because the learning is comprehensive. You study in such a way that all the classes end up blending together a bit, and that can be seen. I think that all of that extensive knowledge was really valuable from the time that I started college up to the present time, now that several years have passed.
CAS was very valuable because we were among people that had fewer resources. Some of them even lived on the streets. That brought many of us into contact with a reality that we would not have otherwise known if it weren't for CAS. Because of this, I started to develop a culture that prioritized helping others and the community.
My thesis was crucial for me. I did it on the Spanish language. I did an analysis of a work by a Chilean novelist, and I ultimately published it. It was the first time that a paper was published on that novel. I met the author, and they invited me to the release party for one of his books in Chile. At the time I didn't realize it, but ultimately that experience was what led me to pursue journalism. It really impacted me.
"In Chile, when you begin college you can immediately tell who did the International Baccalaureate and who didn't. In the DP, you learn thoroughly and the academic rigor helps you to mature in order to face the challenges of university."
The main benefit of the DP for me was learning to comment, to write well and to structure essays. That is essential for what I do currently. For those students who are thinking about doing the Diploma Programme, I definitely recommend that they do so. When you are younger and you are about to finish high school, you need to make decisions, mature quickly and start to think about what you want to do in the future. The DP is really comprehensive, it provides you with extensive knowledge and it prepares you to make decisions both professionally and personally.
I decided to remain in Chile to go to school, even though I was admitted to St. Andrews University in England. I studied business for one year. Then I studied journalism for five years at Universidad del Desarrollo in Santiago. I worked at one of the main gastronomic magazines of Chile. I later quit and went to the United States to study pastry making and to specialize in that field at The International Culinary Center. While I was in New York, I started to work at The World's 50 Best Restaurants organization, developing content in Spanish for its webpage. Now back in Chile again, I am building my own website and I am looking for a place to write that is specialized in gastronomy.