The IB supports universities through dedicated online systems for receiving and evaluating IB Diploma Programme (DP) and Career-related Programme (CP) students' transcripts.
IB students can request that their results are sent to universities and other institutions. Student results can be sent electronically or via paper transcript.
Most universities prefer the electronic option because it is: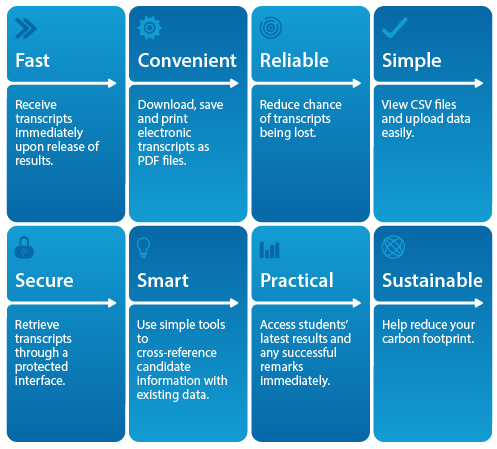 Whether your university decides to receive electronic or paper transcripts, you must have a MyIB Institute Account in order to receive transcripts from the IB.
Receiving results transcripts online
The IB provides two online systems to support universities who choose to receive the transcripts of DP and CP students:
For a university to access transcripts electronically, we require one or more of their staff to create an individual MyIB Account and register as an Institute Transcript User. This individual account is associated with the My IB Institute Account of your university and gives you access to IBIS, the system used to access electronic student transcripts.
The IB's interactive user guide for universities provides key information about:
Registering your university for a MyIB Institute Account
Creating a MyIB Account and applying for a role
Registering IBIS and PingID login details
Logging in to IBIS and PingID
Reading a DP, DP courses, or CP transcript
The guide also explain how the IB communicates with universities and contains a useful FAQ section.


Access the user guide to IB systems for universities and other institutions


For any questions or feedback, email support@ibo.org.
Important note: Middle Years Programme (MYP) transcripts are not accessible via IBIS. If you require access to a MYP transcript for a candidate, please email support@ibo.org.
Receiving paper transcripts
The IB recognizes that for some universities, there may be local legal requirements that necessitate official paper copies to be retained by the university. If you wish to receive paper transcripts, you will need to indicate this when creating a MyIB Institute Account. Transcripts are printed and sent out by courier service from our Cardiff (UK) office to the address on the Institute Account within two weeks of the result being released. Please note that it can take a further two weeks for the transcripts to arrive at their destination in some countries. For example, transcripts from the 5th July release date, may not arrive at your university until early August; therefore, we strongly recommend that universities choose the electronic option.
Please use the notes on the reverse of the transcript to read and evaluate student results.
To receive key IB updates and announcements universities must have a member of their staff with a MyIB Account associated with the relevant MyIB Institute Account.
DP and CP students' results release dates
The International Baccalaureate conducts two examination sessions each year.
For the May session, results are issued on 5 July starting at 12:00 GMT (noon). Universities that access transcripts electronically are also able to access results on this date.
For the November session, results are issued on 2 January from 12:00 GMT (noon). Universities that access transcripts electronically are also able to access results on this date.
The IB also releases statistical bulletins after each examination session, with key summary statistics for each session, including comparisons with previous examination sessions.