Through the DP Music course, students will develop to become well-rounded modern musicians through a combination of practical work, theoretic and technical training and the development of creative competencies.
This holistic course achieves this by scaffolding and integrated approaches to:
deep listening skills
performance proficiency
compositional craft
the ability to discuss music critically
the ability to justify creative choices, and
the capacity for entrepreneurship in the musical world
Throughout this course, students and teachers have flexibility and agency to access unique and personalized content and approaches to engaging with music:
Four Areas of Inquiry combined with diverse contexts offer students the opportunity to experience a variety of musical works, forms, and genres in a meaningful manner.
Throughout the course, students embody three roles, the researcher, the creator and the performer.
Through their work, students inquire, create, perform and reflect on their work in progress. This creative process of working in the arts, and specifically in music, is encapsulated in the three musical processes, exploring music in context, experimenting with music, and presenting music
This flexibility is about choice in the learning, teaching and assessment as well as forging deep, life-long connections between students' passions and interests and the wider world of music and music-making.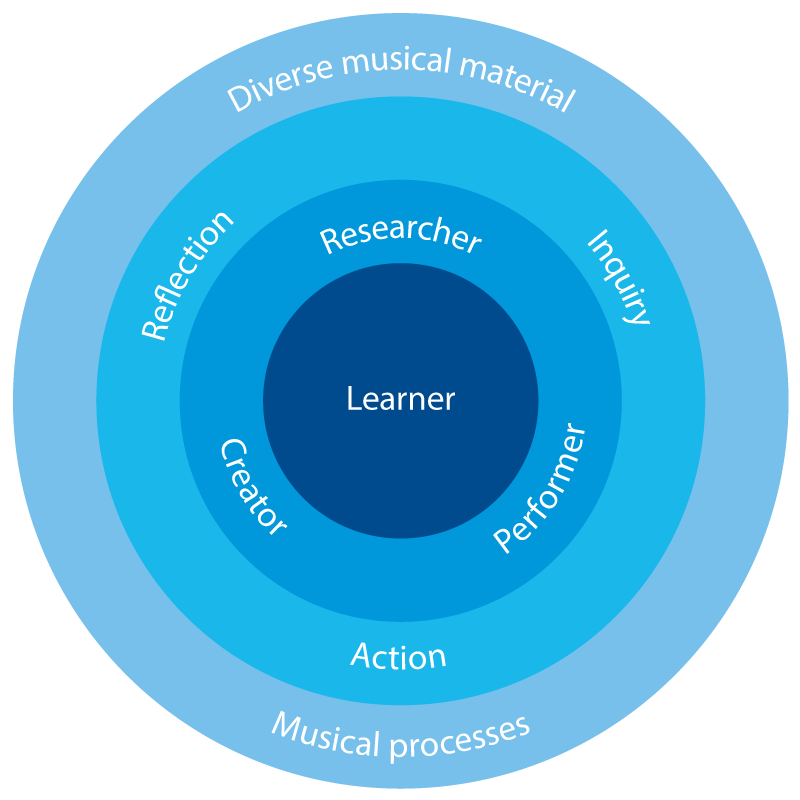 Music syllabus outline
Syllabus component

Hours

SL

HL

Exploring music in context

When exploring music in context, students will learn how to engage with a diverse range of music that will broaden their musical horizons and provide stimuli to expand their own music-making. Students will demonstrate diversity and breadth in their exploration by engaging with music from the areas of inquiry in personal, local and global contexts.

45
45

Experimenting with music

When experimenting with music, students connect theoretical studies to practical work and gain a deeper understanding of the music they engage with. Through this theoretical and practical work as researchers, creators and performers, students will learn to experiment with a range of musical material and stimuli from the areas of inquiry across local and global contexts.

45
45

Presenting music

When presenting music, students learn to practise and prepare finished pieces that will be performed or presented to an audience. In working towards completed musical works, students expand their musical identity, demonstrate their level of musicianship, and learn to share and communicate their music as researchers, creators and performers.

60
60

The contemporary music maker (HL only)

Music at higher level (HL) builds on the learning of musical competencies and challenges students to engage with the musical processes in settings of contemporary music-making. For the HL component, students plan and collaboratively create a project that draws on the competencies, skills and processes in all of the musical roles of the music course, and is inspired by real-life practices of music-making.

90
Key features of the DP music syllabus
Available at standard (SL) and higher levels (HL)
The minimum prescribed number of hours is 150 for SL and 240 for HL
Students are assessed both externally and internally
External assessment consists of

Exploring music in context through a portfolio submission
Presenting music through the submission of a diverse programme of created and performed works

Internal assessment consists of

Experimenting with music through the submission of a report evidencing relevant research and experimentation through creating and performing tasks
The contemporary music maker (HL only) through the submission of a multimedia presentation
Learn more about music in a DP workshop for teachers.
Music subject brief
Subject briefs are short two-page documents providing an outline of the course. Read the standard level (SL) and/or higher level (HL) subject brief below.