Jeffrey R. Beard joined the International Baccalaureate® (IB) in September 2005 and became Director General in January 2006, following the retirement of George Walker.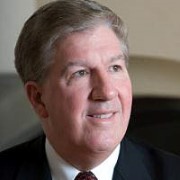 Born and educated in the United States, Jeffrey Beard graduated from the US Naval Academy in 1972 with a bachelor of science in analytical management, and has two graduate degrees, including an MBA from the University of Wisconsin-Oshkosh, WI. His business career included roles of increasing responsibility in several multinational corporations where he developed his cross-functional management experience and understanding of strategic planning, thinking and delivery. His decision to move to the IB represented an opportunity for him to "give something back"; to leave the business world and apply his management knowledge and experience to international education, an area to which he is greatly committed.
Further to his proven record of successfully managing an international business, he has also demonstrated the ability to raise development funds. In 1990 he was appointed as local chairman of the United Way Campaign, which raised over US$1 million for charity. In 2004 he led a campaign to raise over US$800,000 for the US Naval Academy to fund a new academic position, the Distinguished Military Professor Chair for Character Development. Because of his strong belief in ethics and character development in young people, he agreed to continue in this role for the school.
Jeffrey has a great deal of personal interest and a strong belief in education. He served as president and member of the West Des Moines school board in Iowa, USA for five years. He currently serves on the board of Life's Building Blocks, a small start-up that "helps parents teach children how to make good life decisions" using interactive products that promote adult/child interaction.
Various members of Mr Beard's close family are teachers, he taught college business courses while stationed in Wales, UK in the mid 1970s, and his two children graduated with IB diplomas from the Vienna International School, Austria, in the 1990s.