Thank you to all attendees of the IB Global Conference of our 50th anniversary year that took place in San Diego in July 2018. The theme of the conference was 'Shaping the Future'. We hope you enjoyed this year's conference.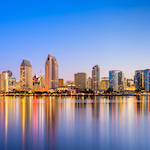 Presentations
If you'd like to download any of the presentations from the 2018 conference, you can visit our web app. You can search by speaker name, or by session title.
Conference highlights
Look back at the highlights of the conference in this short video with impressions from keynotes, sessions, performances, venues and from the attendees themselves.
Funky Socks Fundraising Campaign
We Help Two partnered with the IB at the Global Conference in San Diego and organized a Funky Sock Fundraising campaign to raise funds for prosthetic legs for children. Thanks to the IB community in San Diego, funky socks have provided 12 legs in total!
Read more here.
Conference highlights on social media
During the four days of the conference, delegates took to social media to share their experiences.