The IB first established a Global Centre in Singapore in 1982 before moving to its current location in 2012. The office is conveniently located in the iconic Parkview Square building in downtown Singapore, near Bugis MRT station, Bugis Junction and the major commercial hub at Marina Centre.
Our Singapore office is home to over 100 staff members and the main departments stationed here are:
Finance
IT
Global HR
Schools office with 6 different departments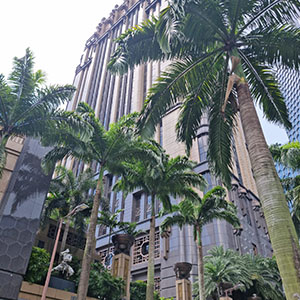 One of Singapore's most recognized office buildings, Parkview Square is also home to the Parkview Museum on the third floor, where international contemporary art exhibitions are presented every year. Other notable neighbours in the building include the Honorary Consulate of Oman on the fourth floor, the Embassy of the United Arab Emirates on the ninth floor, and the embassies of Austria and Mongolia on the twenty-fourth floor of the building.
Locally, the building is often referred to as the Gotham building due to its Art Deco architectural style that resembles the fictional Gotham City from the Batman series.
"What I find most interesting about my role here at the IB is understanding the operating mechanisms and how decision-making processes work in a non-profit environment. Working at the IB also has a more global aspect to it than in my previous roles, where I worked on a more regional basis. " — Kian Hwee Ong, Head of Global Finance Shared Services and Global Controller, Singapore