The IB's foundation office in Geneva, Switzerland, opened in 1968 as the first location of the IB. Before the creation of regional offices, schools from around the world were accepted from the IB Head office in Geneva.
The office is currently home to approximately 12 staff members. The main departments stationed here are:
Director General's office
Legal affairs
Strategy & Governance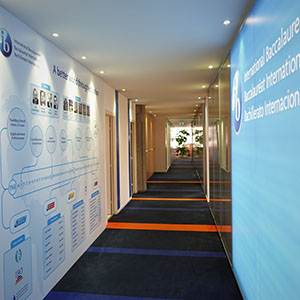 The current office at Route Morillons 15 in Le Grand-Saconnex was officially opened in December 1983. Before this, the IB office moved several times from its creation in Cologny (Geneva).
The office is situated on the outskirts of Geneva, just a few kilometres from the city centre and from the Palace of Nations, the home of the United Nations Office in Geneva. It is also near the World Health Organization, the International Labour Office and The International School of Geneva. Geneva International Airport and Geneva railway station are less than 15 minutes away by car and public transport.
The IB was and still is, registered as a Swiss not-for-profit organization. Being Swiss-based was advantageous for the fledgling organization as Switzerland was still perceived (in the late 1960s) as "neutral", politically and educationally.
Geneva is a very international city: as of 2013, almost half of the city's residents were resident foreign nationals.
"I joined the IB because I wanted to be part of this global organization that so strongly believes in helping young people get the benefits of an international education. What I really appreciate at the IB is the philosophy, values and energy that are shared by all staff members." — Riziero Pisani, Governance Events Coordinator, Geneva