The IB believes that all students should have access to high-quality learning experiences. Beyond a traditional focus on content, an IB education empowers young people to develop as lifelong learners who can both manage and lead their educational journey. Start exploring how your school can adopt the IB schoolwide.
This section contains resources that any school can use when considering adopting the IB schoolwide. The focus lies on areas that schools with IB programmes have identified as priorities for:
increasing student participation
success in high-quality education.
As a learning organization, the IB works in partnership with schools to co-create and nurture rich and supportive learning environments for all students.
Advance student success using a systems approach
A case study by the Brookings Institution examines the IB's systemic approach to educating the whole person. The study also addresses how an IB education offers a coherent and systematic way to navigate competing needs:
"Throughout its history, the IB system has managed at least three ongoing tensions, which stem from its multifaceted aims and which the system has evolved to manage. These three tensions are between:
Academic rigor and equitable access
More traditional academic achievement and more holistic teaching and learning
Providing support to schools and teachers to promote fidelity of implementation and also permitting practitioners enough discretion for local adaptation."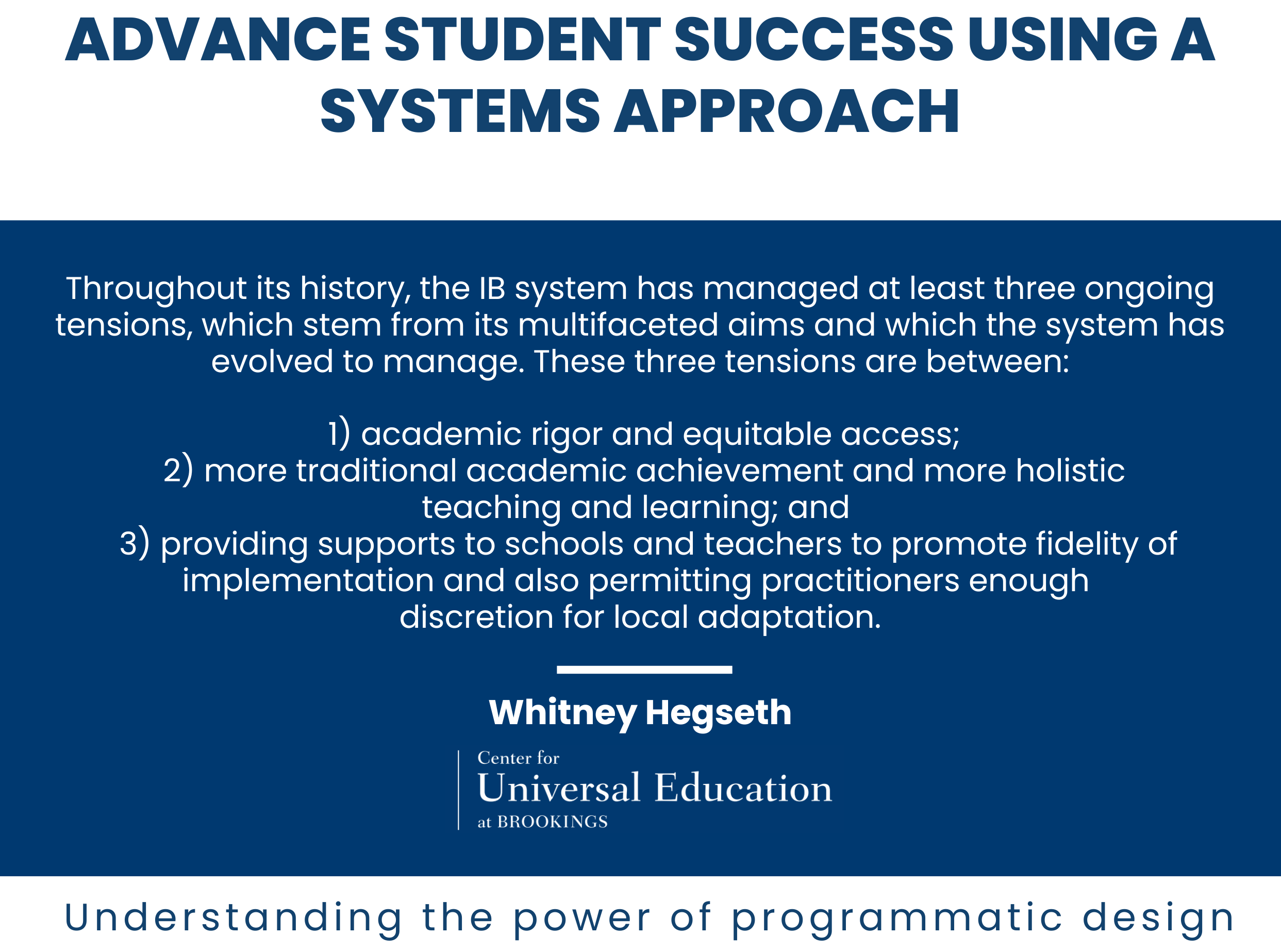 An IB education is designed for transferring learning experiences. When students engage with inquiry-rich approaches in our programmes, they connect what happens in the classroom to their local and global contexts.
Through inquiry, educators and students are both adaptive learners who explore content in interconnected ways. The IB believes that all students should have access to high-quality learning experiences that shape them and empower them to discover new interests and develop new skill sets.
This microsite contains resources that any school can use. However, it has been developed in line with areas schools with IB programmes have identified as priorities, for increasing student participation and success in high-quality and rigorous education.
Access to a world-class education for all students through the IB: a principal's perspective
View more examples of inclusive high-quality IB education in the United States.
Additional resources
Research studies
IB Programme Standards and Practices
Student support 2.4: The school demonstrates a commitment to make the most effective use of learning spaces and learning environments in ways that meet the needs of all students. (0202-02-0400)
Culture 1.3: The school provides opportunities to access the programme(s) for the broadest possible range of students. (0301-01-0300)
Culture 2.3: The school describes in its inclusion policy the rights and responsibilities of all members of the school community and clearly states the school's vision for implementing inclusive programmes. (0301-02-0300)
IB Excellence and Equity Framework
Dimension 1: The school's mission clearly emphasizes the benefits of academically challenging opportunities and high expectations for all students.
"School administrators communicate the desire of the school to offer the DP/CP as inclusive and rigorous programmes to support student growth."