An IB education is a transformative learning experience for students, educators, parents and schools. Four international education programmes offer much more than academic preparation—they are uniquely designed to develop international-mindedness as well as students' critical thinking and lifelong learning skills.
That's why we have partnered with the Association for Middle Level Education (AMLE) to publish a new white paper with recommendations for understanding and observing essential elements inside schools.
The white paper is a must-read for families new to middle school, as well as for schools looking to understand the characteristics of an effective middle years education, based on research by AMLE.
Download the free white paper today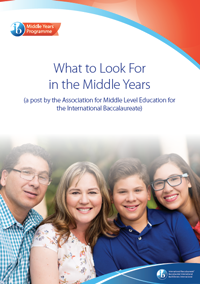 Please complete the form to receive a link to download the white paper.