This page contains the latest updates on the Diploma Programme (DP) business management course.
The new DP business management course will be launched in February 2022. It will be taught in August 2022 for the first time, with assessment taking place in May 2024.
At its heart, the new business management course aims to develop the confidence, creativity and compassion students require to become effective change agents and successful business leaders and entrepreneurs.
Business management is an exciting and dynamic discipline that goes beyond students' current needs—developing them into tomorrow's global citizens, prepared for a complex and evolving business environment.
This course prepares students to be global citizens ready to face up to the challenges and opportunities awaiting them in our ever-changing world.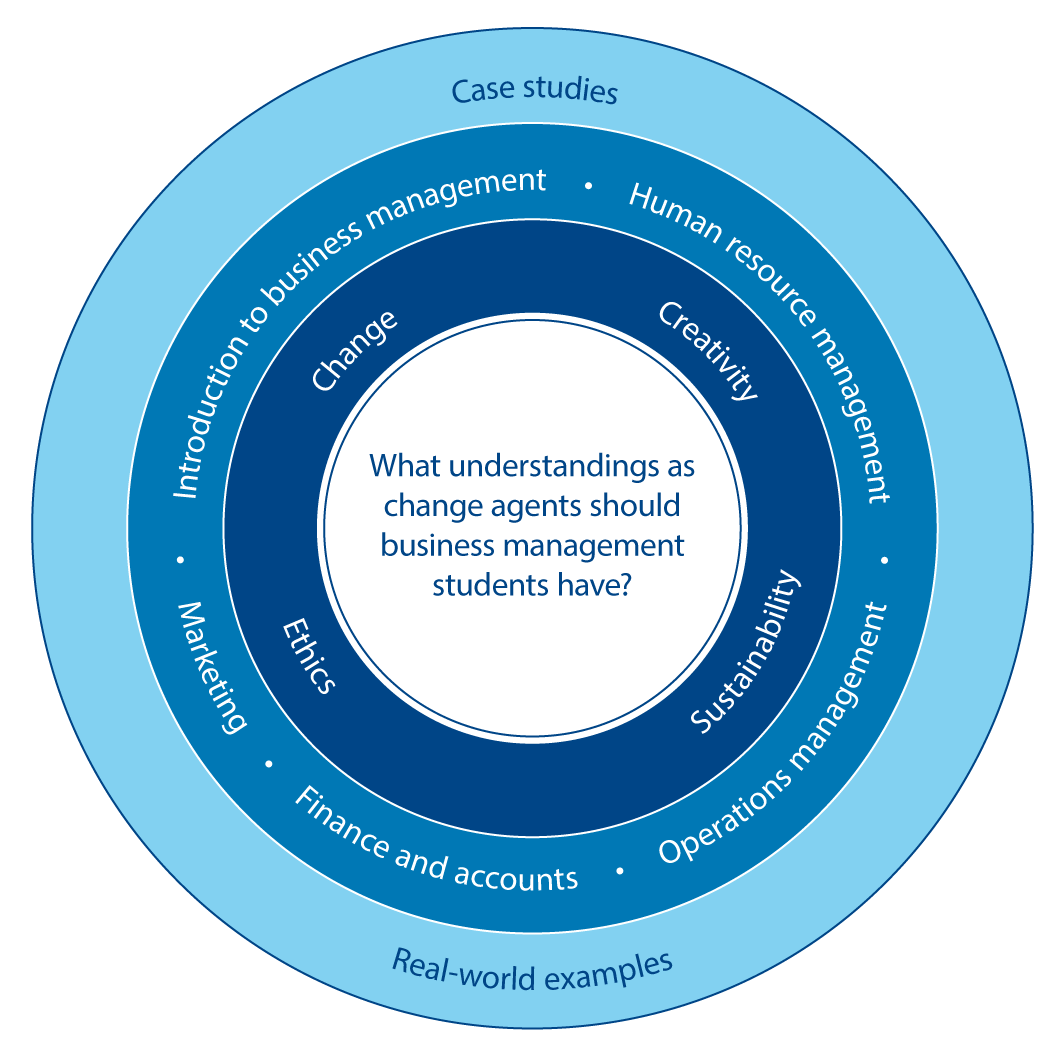 Below you will find an overview of the course. For a technical breakdown of the DP curriculum and assessment methods for this course, read the business management – SL subject brief (PDF, 540 KB) or business management – HL subject brief (PDF, 544 KB).
Revised conceptual framework
Through the exploration of four interdisciplinary concepts: creativity, change, ethics and sustainability, this new course empowers students to explore these concepts from a business perspective. Each unit in the course begins with conceptual understandings statements. These statements include the key concepts and summarize important ideas and core processes that are central to a unit. Conceptual understanding enhances the student's overall understanding of the course, making the subject more meaningful. In addition, it further deepens the students understanding of the complex and dynamic business world.
Integrated business management toolkit
The business management toolkit is a central feature in the new course. The toolkit is a set of tools that provide synthesis and connectivity to the course units. These tools can be used by students to analyse and evaluate the syllabus content and can be applied in different disciplinary and interdisciplinary contexts. These tools are to be integrated throughout the teaching and learning of the course.
Inquiry statements
In the new business management course, focus is placed on allowing students to develop and demonstrate higher order thinking and to ensure that they are actively involved in researching business issues. Inquiry ensures that students are actively engaged in their own learning, constructing their own understandings. Teaching and learning the business management skills enriches the student's understanding of business and enables them to apply these to the concepts, content and contexts. Inquiry statements are present in each unit to aid these understandings.
Future focused assessment
The revised paper 1 is a pre-released statement that specifies the context and theme for the upcoming unseen case study. It assesses students' knowledge around important contemporary business topics that could not have been anticipated when the guide was written. Paper 1 is the same for both SL and HL students.
Paper 2 is based on unseen stimulus material with a strong quantitative focus requiring in-depth analysis and evaluation using business theories and tools. SL and HL students will sit different examinations, but these will be similar in intent and form.
The new paper 3 is about a social enterprise and requires students to identify and describe a human need and the potential organizational challenges facing the social entrepreneur wanting to meet this need. Students are then required to recommend a plan of action as a strategic way forward for the business.
The revised internal assessment is a business research project in which students apply appropriate business management tools and theories to a real organizational issue or problem using a conceptual lens. It is common for both HL and SL.
What are universities saying about the subject?
"The IB Diploma is one of the most represented at Bocconi, preparing students to continue their academic path at our university…The Business Management course is a good fit for Bocconi in terms of its values on Ethics, Change, Creativity and Sustainability which are all topics at the heart of Bocconi's Management course. All the core areas of management, from HRM to finance and accounting are covered in depth."
- Director of Admissions and Recruitment Bocconi University