Below, you will find information on the conference venue, official accommodation and travel information for the IB Global Conference, The Hague held on 6–8 October 2022.
Conference venue
The IB Global Conference, The Hague 2022 will take place at the World Forum.
The World Forum is a state-of-the-art international convention centre offering the largest auditorium in the Netherlands and numerous presentation spaces.
Nestled in the heart of The Hague, the World Forum is close to both the beach and city centre and is within easy driving distance of two international airports. It is also situated next to the IB global office between the city centre and the beach area.
Address:
Churchillplein 10
2517 JW The Hague
The Netherlands
Celebration dinner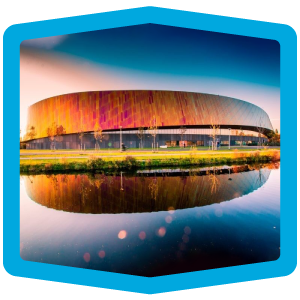 Join us for a night of food, drinks, music and entertainment. This event will be hosted at Sportcampus Zuiderpark on Saturday 8 October at 7pm.
About the location:
The Sportcampus Zuiderpark is an indoor sports arena located in The Hague, Netherlands, at Meester P. Droogleever Fortuynweg 22, 2533 SR Den Haag, Netherlands.
Sportcampus Zuiderpark is a knowledge centre for sports and exercise and part of the Centre for Top Sport and Education of the Metropolitan Region The Hague-Rotterdam. More information regarding this venue can be found here.
Shuttle buses will be sent to the main conference venue at 6.30pm to transport registered participants to and from the celebration dinner. Transportation back to the main conference venue will begin around 9pm.
Dress code: Smart casual
More details about the conference venue
Travel information
Accommodation