Senior Leadership Team
Find out more about the International Baccalaureate® (IB) Senior Leadership Team (SLT).
Thaimur Changezi – Chief Financial and Business Officer

Thaimur joined the IB in June of 2016 as Director of Finance and Procurement in the IB Global Centre in Singapore. He has over 21 years of experience in finance, and brings a wealth of knowledge to his role at the IB. Thaimur has worked in the private sector in the Middle East, Europe, the US, and Asia Pacific, in areas ranging from business development and manufacturing to oil and gas. He holds a Bachelors' and Masters' degree in Finance.
As Chief Financial and Business Officer, Thaimur heads a team of over 80 people spread throughout IB Global Centres all over the world, covering Commercial Publishing, Enterprise Planning, Finance, Facilities, Risk and Travel.
Dr Rebecca Hughes – Chief Officer of Learning and Teaching

Dr Rebecca Hughes joined the IB in December 2017 as Chief Officer of Learning and Teaching. Rebecca is a published academic and an expert in Applied Linguistics and English Language Teaching. She spent the past 25 years researching students' needs and developing international education programmes at Nottingham and Sheffield Universities, and - most recently - at the British Council. There, she was Global Director of Education, heading a team focused on internationalizing education, creating high level partnerships, and sharing the UK's expertise and innovation globally. Her team supported Ministerial level bilateral agreements, developed curriculum resources and opened up opportunities for international collaboration and professional development to support improvements in teaching and learning. Rebecca helped set up the national #weareinternational campaign in support of international students in the UK, was the sector lead for the Erasmus Plus National Agency and the UK's 'Education is GREAT' campaign, and has held advisory roles with the OECD, Swedish Foundation for Research in Internationalisation of Higher Education (STINT), Danish Ministry of Foreign Affairs, and was Co-Chair of the UK's Department for Education's International Education Advisory Working Group. Dr Hughes holds an Honorary Chair as Professor of Applied Linguistics and International Education at the University of Nottingham. She holds a bachelor's and a doctorate degree from Oxford University.
Paula Wilcock – Chief Assessment Officer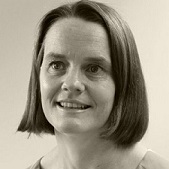 Paula Wilcock is the IB's Chief Assessment Officer, providing overall functional leadership and direction for the Assessment Division.
She brings over 20 years of experience to her new role including positions in school, college and professional and awarding body organizations. She has international experience through assignments in the Middle East, South Africa, Southeast Asia and Europe.
Paula has an MBA in Educational Management and is a chartered member of the Chartered Institute of Personnel and Development.