IB DP Advantage
Your new professional development destination.
A flexible, portable and convenient learning resource to help you build upon your strong foundation of IB professional development (PD). IB DP Advantage offers hours of informal PD for you and your school's entire DP staff. You decide when to log on and learn, and you move at your own pace. Visit a few topics at a time, take extra time to reflect, or move quickly to refresh and review. If you are ready for fresh insights and stimulating challenges that help you and your team grow professionally, then this is the online PD product you need.
IB DP Advantage can be shared among many: used individually by members of your teaching team, or used together as an asset within your professional learning community (PLC).
Use IB DP Advantage to deepen your professional learning community's understanding of IB pedagogy and the DP curriculum.
Make use of its online resources at team meetings or at special events.
Bridge knowledge gaps, provide timely support, and share best practices on a regular basis throughout the school year.
"Having smaller courses which underpin the fundamental beliefs of IB… is something essential for a school like ours. We can't afford to send people [to PD all the time]."
- Daniel, DP coordinator, Egypt
A single subscription provides 12 months of support for your entire DP teaching team.
Here's what you get with IB DP Advantage:
E-learning - one-hour, self-paced, media-rich e-learning resources on various topics relevant to DP teachers. The topics are listed below.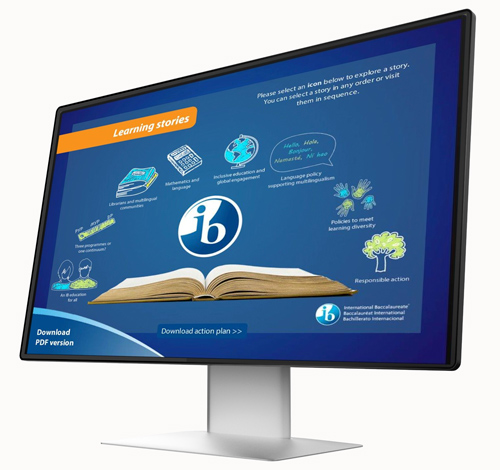 CAS at your school

Concept-based teaching and learning in the DP

DP approaches to teaching and learning

DP History course

DP learning stories

Extended Essay

Inclusive education in the DP

Integrating TOK in DP individuals and societies

Integrating TOK in DP languages

Integrating TOK in DP mathematics


Integrating TOK in DP sciences


Timetabling and scheduling

Understanding DP assessment
Live coaching — Live coaching is suitable for acclimating those new to the IB or for providing counseling to mid-career teaching professionals. Coaching hours are provided by experienced IB teachers and can become a transferable asset for staff who are required to provide induction services for teachers new to your school.
"I explained exactly the situation I was in and the mentor was able to help me develop some very useful ideas for the specific decision I was making."
- Lucia, DP teacher, Turkey
Videos—Each video provides practical insights into IB teaching practices and pedagogy whether you are interested in learning from experienced IB educators or watching real classroom examples from around the world. Reflective activities for discussion within your PLC accompany each video.
"A lot of IB schools are tucked away with no opportunity to network. This lets you do that just by watching."
- Wendy, DP Coordinator, USA
Webinar pass—good for eight (8) DP live events, plus access to a growing collection of archived events. Can be viewed with your PLC or individually.
Email us with any questions you have.
Ready to subscribe?
Please select from one of the following registration tiers. To determine the tier that is appropriate for your school, consider the number of DP teachers in the school.
We encourage you to include all DP teachers so that everyone in your DP professional learning community has access to the subscription.
| | | |
| --- | --- | --- |
| Number of users | Cost | Hours of access |
| Up to 20 users | US$2000 | 10 hours of live coaching and unlimited access to DP Advantage resources |
| From 21 to 40 users | US$2500 | 15 hours of live coaching and unlimited access to DP Advantage resources |
| More than 41 users | US$3000 | 20 hours of live coaching and unlimited access to DP Advantage resources |
If you find that more teachers than you are subscribed for need access to DP Advantage IB will extend your subscription and invoice the difference.
In the event of cancellation a full refund will apply if the cancellation is requested within 14 days of registration.
This informal PD does not fulfill the requirements for IB authorization. However, it can serve as evidence of PD beyond IB requirements for evaluation.