The CP core
A key element of the International Baccalaureate® Career-related Programme (CP), the CP core enhances student's personal and interpersonal development, with an emphasis on experiential learning.
The CP core bridges the IB academic courses and the career-related study and provides students with a combination of academic and practical skills.
Four interrelated components form the core.
Approaches to learning
The approaches to learning course aims to develop responsibility, practical problem-solving, good intellectual habits, perseverance, resilience, an appreciation of identity and perspective, and an understanding of the complexity of the modern world.
Emphasis is on the development of skills needed to successfully navigate higher education, the workplace and society.
Community and Service
Community and service is the development and application of knowledge and skills towards meeting an identified community need.
Through service, students develop and apply personal and social skills in real-life situations involving decision-making, problem-solving, initiative, responsibility, and accountability for their actions.
Reflective Project
Through a reflective project students identify, analyse, critically discuss and evaluate an ethical issue arising from their career-related studies.
The project can be submitted in different formats including an essay, web page or short film.
This work encourages the student to engage in personal inquiry, action and reflection, and to develop strong research and communications skills.
Language Development
Language development ensures that all CP students have access and are exposed to, a second language that will increase their understanding of the wider world.
Students are encouraged to begin or extend the study of an additional language that suits their needs, background and context.
Find out how to become an IB World School, in order to implement the CP.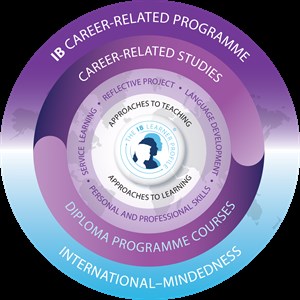 Changes to the CP core in 2016
The CP underwent a curriculum review between 2014 and 2015.
During this time each component of the CP core was reviewed, and all CP documents have been revised and rewritten, to be published in December 2015 for first teaching of the revised CP core commencing in September 2016.