Senior Leadership Team
Find out more about the International Baccalaureate® (IB) Senior Leadership Team (SLT).
Andrew Macdonald - Chief Schools Officer

Andrew has an excellent mix of commercial and educational background. He has over 20 years' senior leadership experience in the commercial sector, starting out as an auditor before migrating through significant operational positions.
He spent fourteen years in the education market, both in the United States and internationally, gaining further experience in other countries.
Andrew has helped lead mission-driven organizations in North America, Europe and Australia, covering literacy improvement, computer-based assessment and online learning. He has significant cross-functional experience in marketing, business development, logistics, HR, IT, academic services, finance, and customer service.
In Andrew's most recent role as Senior Vice President (Operations) for a literacy training organization, he was noted as a transformational leader, moving the organization to a full-scale automated enterprise system.
His focus on results and operational excellence is coupled with systems thinking and—most importantly—a passion for education.
Paula Wilcock - Chief Assessment Officer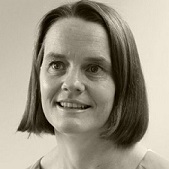 Paula Wilcock is the IB's Chief Assessment Officer, providing overall functional leadership and direction for the Assessment Division.
She brings over 20 years of experience to her new role including positions in school, college and professional and awarding body organizations. She has international experience through assignments in the Middle East, South Africa, Southeast Asia and Europe.
Paula has an MBA in Educational Management and is a chartered member of the Chartered Institute of Personnel and Development.
David Hawley - Chief Academic Officer

David is an accomplished international educator, who has held academic leadership position in Latin America, North America and Europe. He brings a broad skill-set and deep IB expertise to the role.
Before joining the IB, he was the Head of School at Lester B. Pearson College of the Pacific in Victoria, BC, Canada, which is one of 14 United World Colleges (UWCs).
Prior to this, David worked for ten years as the Head of Atlanta International School, five years as Principal at Frankfurt International School and three years as the Principal at Lincoln School in Costa Rica.
He also taught internationally, at schools in Venezuela and Guatemala, and has hands-on experience with the IB, the Advanced Placement Program (AP), the International General Certificate of Secondary Education (IGCSE), and French, German and Spanish Ministry requirements.
He is a member of the Academy for International School Heads (AISH), and a former member of the Council of International Schools (CIS) Board.
After graduating from Framingham State College with a degree in biology and earth sciences he subsequently earned two degrees from Harvard University, a master's degree in educational technology and a doctorate in administration, planning and social policy.
Carolyn Adams - Director of Strategy Development and Execution

Carolyn Adams, the IB's Director of Strategy Development and Execution, was previously the organization's Chief Assessment Officer.

Before the IB, which she joined in 2009, Carolyn was Examinations Director for AQA, the largest of the UK awarding organizations, where she was responsible for the successful delivery of around 4 million GCE A-level and GCSE results each year.
She has worked in virtually all aspects of assessment and curriculum development in a career spanning 30 years and a number of awarding organizations.
Prior to this she had a brief period as a secondary school teacher in England (teaching in the same school as the former IB Director General, George Walker, though joining it just after he left).
Carolyn has a BA in history from the University of Sheffield and a post-graduate certificate in education (PGCE) and an MA in history from the University of Windsor, Ontario.